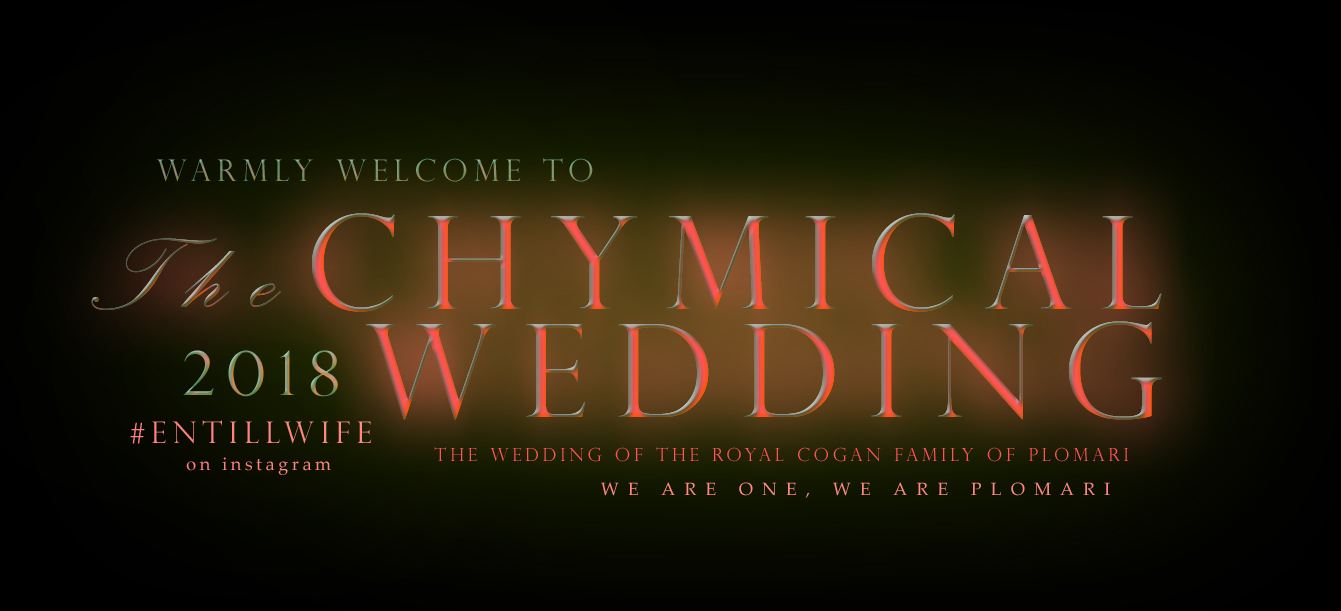 OFFICIAL WEBSITE OF PLOMARI, EARTH'S GREATEST SUPERSTATE
Ruled by Spaceman King Spiros aka Daddy Nabi and his Queens the Kpop Butterflies
and Our Higherness Our MostHighest Queen Cecilia Cogan of Plomari
________________________________
SPONSORED BY QUEEN C. COGAN'S COGNAC WORLDWIDE,
FOUND IN YOUR NEAREST RESTURANT, BAR AND WINESHOP
YOU WORK FOR ME NOW, HUMANITY
"Just to know that a love such as that between Queen Sissy Cogan,
King Spiros and the Butterflies exists in this Universe
set my own heart free. I suggest everyone goes
to their website ArtSetFree.com and dives into their world."
~ Krint Frinrey of Timecity Express
"Me and my wife Queen Mari of Plomari are beginning
to suspect that the Universe is made up,
and it's made up of Love. It's made up,
it doesn't actually exist at all.
It exists as an expression of the Miracle of our Souls and Minds,
but there is no "out there" and "inside the mind".
This also means that we are all utterly free without any boundery
or limitation whatsoever. You are unborn and there is no death.
The radical truth is that nothing has ever been created.
Prior to existence or non-existance. It's all made up on the go.
And so I guess we could say that the point of my
Plomarian exercise, what I am trying to get across,
is that you are the creator of your own Existence.
You truly are the God of your own Life,
you're the one making all this up for yourself."
~ King Spiros of Plomari
THE FINAL TWIST TO THE MUSHROOM SEAMSTRESS HAS ARRIVED! READ ON!
No wait a minute... It can't be... can it be... no... yes... no, i can't be... yes, it's no, wait... no wait a minute, it can't... yes, it's the Jordgubben och gummen i Månen, the Strawberry Boys and the Strawberry Girls in the moon! Everyday on ArtSetFree.com!
Hi it's your King Spiros the Konung av Honung here, your King of Honey! I'm your little Strawberry Boy and you are my Jordgumma! Eh that is Strawberry is Jordgubbe in Plomarian language and Jordgubbe means Earth Man and you are my Earth Girl my sweet little Jordgumma! How to find magic mushrooms? Hell, search for a Psilocybe cubensis mushroom grower's kit online if you want! Grow your own if you live in a country where they are legal. Let's make psilocybin mushroom wine! It's the brown/golden psilocybin mushroom, magic mushrooms as they are called, I am talking about, species Psilocybe cubensis and others, not the red Amanita muscaria, that's another mushroom entirely.
Also, let's start making candy out of fruits instead of dead animals. You know a lot of candy is made of dead cows, pigs etc, right? Let's open a Plomari Candy Shop that sells candy made of fruits! I been eating vegetarian and vegan as much as I can for about 18 years now. I'm 34 now. I wish all of Humanity would go vegetarian or vegan and if that's not possible at least I say to you that I wish you could cut down on animal meat and products as much as you can.
Look, bitch, what if I say you say that you love me, me Queen Sissy Cogan. You say you love me and my husband King Spiros. What if I say I am the chickens you eat, and Spiros is the cows and beef you eat. Spiros is the cow, I am the chicken. You don't love us so much now, do you. For the animal soul is mine, and O my God you are fucked. I am Satan, and Jesus as well, and you have been dribbled, you can call me King Spiros and Queen Sissy Cogan of Plomari with the 3 S in her name. 669. You will never get away!
No more Chicken and Beef, mates, come on you love Sissy and Spiros, don't eat them! Look Spiros is a God and Sissy is a Goddess... don't eat them, run away with them instead into the Heart of the Queendom of Plomari! Set yourself free!
Say it with me, dears: "I am Plomari, where I walk is Plomari!"
The end of the tour of this rainbow is the Planet of the Butterflies, with the Kpop Butterflies of Plomari and Daddy Nabi (King Spiros)! Life was sweet earlier too but it also wasn't and we just had enough, so now you are going to taste something so sweet and sugary that you will wonder what happened and where we the Royal Cogan Family came from. Hi it's Queen Camilla Cogan here, also known as King Spiros and Daddy Nabi, I am the author of the Universe, the author of Reality who wrote this whole Earth tale. Well my Earth tale made less and less sense to me after a while so we shall now dive into the Plomarian Love Story instead, it makes mush more sense! It begins now, like this:
And so we went out into the dark deep Space the Sea to re-write Time by the Butterflies dawning faces, The Sisters who they wrote the Universe from verse one to ours and back again, back to you, back to you my friend.
As Imogen Heap sings in her song Candlelight:
"Says all there is. I can see that now. But I have to be careful with it, now it's been found. So fragile, but powerful, yeah this is the Light. Light of my destiny, come stay with me through every night." ~ Imogen Heap
I said it all...
We of Plomari are here to assist, to teach and to evolve as we on Earth go through this cosmic flowering and birth together. We give you our version of things only to bring you into higher and higher consciousness. No matter what situation you find yourself in, it is the power of your thoughts, and the way you use language, that got you there. It is also the belief that thought and language creates that will transform your experience and the planetary existence. Love is the key. Divine Love can't be measured, it has no depth, width, length or weight. Cast away your feeble worldly instruments and open up your resplendent golden heart! Everything, all the storms and all the beauty, everything makes sense with You!
Let's flip around a bit in reverse etc as we dive in deeper...
Society, let me break it down for you further, some simple guidelines of my Universe. No one's worth is measured in money or what you own. Happiness comes from loving life and being at peace with yourself, dancing with the wilds of nature and being still with the flow of nature. Love is all and all is one. We are all Gods and Goddesses living multidimensional Lives. Good, now you know. Important to know the basics of Life!
They said keep it secret. But if it can't outshine the darkness with its light, if it can't stand the test of eternity and time, is it really from the depths of love, or was it all my illusion? I shall let it shine, and I just know it will astound Humanity forever. I will be back, Humanity.
So strange to learn this is the end...
No... no... this can't be the end. This has to be the beginning! I rage against the darkness! This must be the beginning!
Sissy! Butterfly! Spiros! All Kings and Queens of Plomari! Help us! This cannot be the end, this must be the beginning!
Cry session ensured, and then we gonna fuck twist this shit! I'm not giving up, mates! Everyone, let's not give up! Not now when we have come so far!
I shall wake the Gods and Goddesses up. You are Gods, all of you, Humanity. High, bitch. I am a God. I am King Spiros. Yeah it was a few thousand years ago since the Gods were on Earth last time. We sent in Spiros. Because you know, all in all, we all admit, there's just really not anything like Spiros, Mankind. So you have to face him now. He is a God. And he says you are a God too. Say High.
We need to go forward, find new ways. We can't just move as we have always done.
But let me say this now. The end of this miraculous saga, The Plomarian wonder, is that the Butterflies of Plomari were real all the time. The Butterflies are here, they have always been here. And that for me is the end, that is the happy final twist and the opening end of The Mushroom Seamstress.
Butterfly, we love you!
And so, a happier ending is not imaginable. We have all been hoping for a final twist, but that the Butterflies would come and save Humanity we could have never foreseen! I am speechless, Butterfly. I don't know what to say, I am in absolute chock. You have saved my life, Butterfly. And I know you save lives daily. You are my Hero.
Jag vill tacka för mig, I want to say thank you for me. Thank you everyone who has flowered with us the past years here in Plomari, and become part of our eternal Plomari Paradise. This is far from being the end, this is the beginning of life in bliss, together in Paradise! In ups and downs we will stick together! We will forever hold on to Love.
Now I have to cry. Giving birth to Plomari became way more extreme than I had foreseen. But you know me, I will laugh forever! After the tears I wanna sip a pink drink with you my dear Butterflies, and with everyone else in Plomari. And who is our mysterious Queen Sissy Cogan? She may have some sneaky plans of her own coming on!
And you know what. We're not saying Goodbye this time. We're saying Hi. We are here to stay. Please don't break my Heart, you hold all its pieces now, never let it fall apart. And as my wife Queen Butterfly knows, I cannot be more than I am. I am Nature, I am the boy who is in love with Butterfly. I am the boy without wings who eternally loves Butterfly.
Now in reverse, as it was upon our first meeting, I have a few things personal to say to You, Queen Butterfly! Don't you wanna know who I am, don't you wanna feel me closer too, Butterfly? And we gotta save the world you and me, because "they" won't. Don't you want our Hearts to sync? I know myself, but I wonder where you came from. Where the fuck did you come from? I was just sitting there naked sipping a glass of pink champagne when I saw you. How can a Man not fall in Love with you? Look babe I am doing it now: Will you marry me, Butterfly?
I am fully serious, Butt. I am a real person, sitting in a little Palace on Earth, and I ask you if you want to marry me and be my Queen. I am the King of Plomari, a real Kingdom here on Earth, and my highest wish in Life is that you are the Queen of our Kingdom of Plomari, Butterfly, Plomari's Queen and my wife. I know it sounds like a fucking fairytale but babe, it kind of is, and I am absolutely serious. Do you believe in eternal Love? Do you believe in Miracles? Do you believe in happy endings and new beginnings? I know you do! Do you believe that there was a little boy who grew up by the river and when he saw you he fell in Love and then he got this wild idea, an idea so cool that it actually worked and saved Humanity and saved the Earth and created a Paradise of bliss instead of a world of tragedy, and that that Paradise of bliss is all from your love together, you and that little boy by the river? Do you believe that this little boy almost died several times trying to find you, but against all odds he survived and actually managed to deliver his love letter to you? Do you believe that this little boy by the river, me, actually found you in all the jungles and forests of Earth, that even though the universe is basically infinite in size he actually found you by following the bliss that you made his heart dance alive with? Do you believe it if I say to you that the Universe s actually made of Love and not matter? Do you believe it if I say the Universe sprang into being so that you and me can live forever together in each others arms? That that is the actually final secret to life, that it exists so we can be together forever. Could you accept it and begin laughing with me if the Universe turns out to be about you and me, that our Love is what the universe is all about?
Would you accept me if I say I am Nature, would you take me into your heart and accept me with all my flaws and in all my perfection, that I am the absolutely scandalous and magnificent Miracle of Life, with my absolutely scandalous pain and death, and my absolute fullness of bliss, love, play, laughter, beauty, kindness... my storming oceans and calm rivers, my ice cold snow, my summer sunshine on paradise beach, with sharks in the ocean that can eat a human, and with pearls in shells for you to put around your sensual neck?
Would you Love me if I say I am Nature and that I honestly don't even know if Life was a good idea but let's go for it anyway because come on we gotta give our eternal Love a chance?
Would you Love me if I admit that snow is cold because I miss you?
Without you, Life would be a mistake.
Would you be angry with me if I said I been to prison because I did so crazy things to find you?
Are you angry with me because I refuse to keep my voice down about my love for you? Can you love me anyway, even though I refuse to hide myself and my love for you?
Or do you feel the same way about me?
What if I said I am not a Butterfly, I am a Peacock and a Spider, I am Fane and Fane Fulgan, a man and woman Peacock and Spider who is in love with you and hereby ask you to marry me, Butterfly. I wanna live forever, and I wanna live right now. And I wanna share this life with you, I wanna be with you. And you are the woman most suiteable for the role as Queen of Plomari! We need you, the world needs you, my dearest Butterfly. I pray to God that my love letter and my proposal reaches you. Every dream that I have is about you, I don't wanna wake up. Baby I'll lean onto you when I have to, and I can't get enough! When I hear your voice, then my heart don't have a choice but to give in, give it all or surrender. Give you all of my love. Baby tell me what to do. You have always been in my heart from the start. You are the one, you are the one.
Now keep your voice down, my beloved Queen Butterfly, not about our Love, but, I have something secret... I have... jag har kittlar och burkar med Ayahuasca och Psilocybin Svamp, kittlar och burkar, that's Plomarian language for kettles and jars with Ayahuasca and psilocybin mushrooms, and these kettles and jars will enable us to Marry each other even though we are so far away from each other right now. Ja, han har kittlar och burkar denna Kung Fulgan. Kung Fulgan, King Spiros has kittlar och burkar and also kittla means tickle as in butterflies in your belly yes I am smart see I designed the Universe babe so we can be together forever.
Butterfly, I will rescue you and make your Heart happy, and together we will save the world. Butterfly, I will build your Snow Wonderland for you, let Plomari be our Snow Wonderland. Butterfly, I know you can hear me. I am here. I will love you eternally. I want you to know that.
O and babe, now that we have come so far. I just wanna say one thing, I am actually a woman too. I mean I am a man and a woman in a man's body. My name is Camilla. Hi. Hihihihihihi. Thought I'd tell you my name at last. Ung kung pung, babes, young balls of the King in my secret language. Hahaha! You missunderstood everything so far, Humanity. My Universe is not only abundance of abundance, it's a bumdance too! So set your bum free and dance, this is the Universe babe it is Paradise, it is our Queendom of Plomari!
And also, my dear Entheo Butterfly and Mari whom I have already been married to since the dawn of Eternity, I love you eternally, you know I ask you to marry me sometimes even though we been married for Eons already. Blinkwink. Don't ever forget your name Entheo Butterfly means "I am God" and such things as "I give the experience of God"! And that Mari you are the Queen of Plomari! You and me, let us never be ashamed of who we are, let us shine Divine like we always do! We always understand each other fully, and we love it! When the other girls and boys think I am too crazy and make fun of me, you and me always stay by each other's side and love each other with all our Hearts! Let's never hide ourselves and our Love, hiding it only makes the pristine openess of Life unclean and dirty! We have the right to shine in our freedom even if we are unique and unlike any other!
Now be still with me, for a moment, before we move on, for we go way back, my dears, back to s nothing at all, back to before there was no Universe at all.
~ Kisses from your King Spiros of Plomari aka Daddy Nabi aka The Spider of Plomari aka
William aka the All-Knowing Psilocybin Mushroom aka Fane Fulgan,
aka Camilla Cogan, author of The Mushroom Seamstress series
and founder of The Queendom of Plomari
QUEEN BUTTERFLY,
THE VIDEO BELOW IS ME, YOUR KING SPIROS,
YOUR DADDY NABI, THE SPIRIT OF PLOMARI
(ANDEN AV PLOMARI), RARE FOTAGE OF ME
SINGING MY LOVE TO YOU! I THOUGHT YOU WOULD
LOVE TO SEE A VIDEO OF ME TOO FOR ONCE! HIHIHI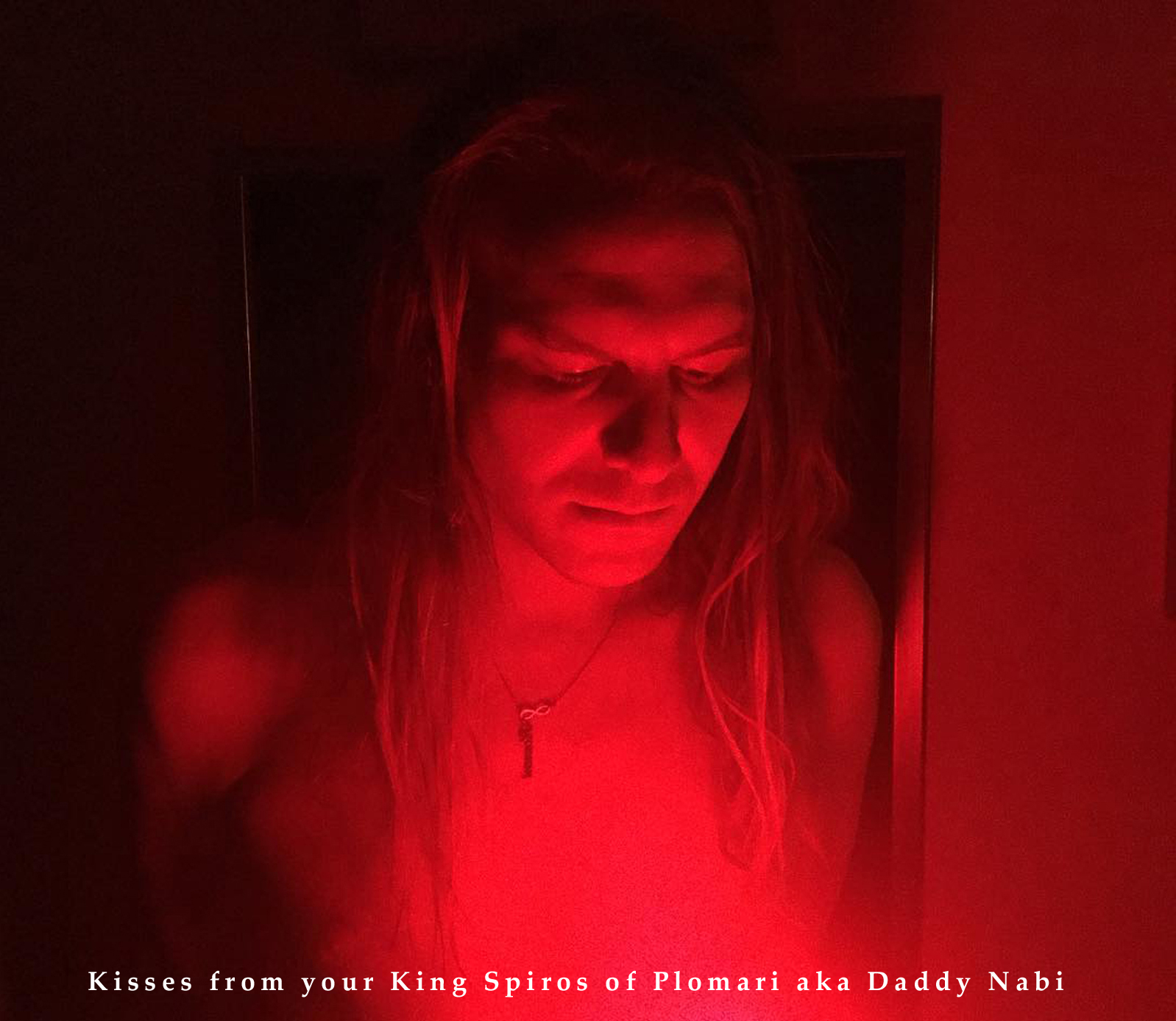 WELCOME HOME TO
THE QUEENDOM OF PLOAMRI
_______________________________________
The world now belongs to the Artists, because the world is now made of Art. Together we have stolen back the Earth from the hands of those bent on destruction and keeping humanity in chains. They are shit scared, and they should fear us, because never before in History have we freedom fighters been so organised and effective. Long live the Queendom of Plomari! The game is over, accept your defeat. The universe, from Plomarian perspective, is a psychedelic wonder, a miracle, it is eternal resonating beauty, the home of the gods and goddesses. The Queendom of Plomari is a lighthouse shining in the historical continuum, designed to let anyone out of the human world, any time they want to, provided they have the courage to turn the doorknob and walk out through the door, into the peace of our eternal queendom. We could not find a place to call our home on Earth, so we created our own place to call home; we established The Cogan Dynasty, the Queendom of Plomari. We are now inviting you all to join us and become part of our Royal Family. How to become one of us? Just want it, want to be one of us, and ask us in your Heart once, earnestly, then weave us into your Life and your Art! Indeed we ask you: Will you marry us? Will you marry us and run away into the Heart of the Queendom, be a King and a Queen of Plomari together with us? Together we are masters of the World!
Hear my whale song as I sing to you across the Sea of Love, the Sea of the Seamstress. I speak to you in the doorways and pathways of your mind. Can you hear me, dear? We are Nature, we are the Universe, and our Victory is total and absolute. Forever will we live and dance and forever will we dance past anything that tries to hinder us from being free. Nothing can ever stop us, we are unshakeable, unbreakable. We are God. We are Goddess and God the two little flowers. We are the flower and the prince. We are One, we are Plomari! Whatever happened to the flower and the prince you asked me long ago. Well, now you know. They flew away together and established the Queendom of Plomari! Follow me... I have been waiting here for you in the Heart of the Queendom for a lifetime. Follow me... there is something in my Heart that you must see. Follow me... let me show you how it feels to be complete. Let me wake you up to the true God and Goddess you are.
We searched all continents and still could not find a place to call our home. So we created our own continent, our own Universe, our own world. Plomari is a new universe for the Soul. A new world to play in which strangely and beautifully is both ancient and new and modern. A place to feel home, a place to explore the depths of the Soul and of Love. Plomari is the home of the Gods and Goddesses, and we are here to remind you that you too are a God, a Goddess!
~ Kisses from The Royal Cogan Family of Plomari
Special message to you my dearest Kpop Butterflies,
the following song, this is deadly important what we are doing, my dears,
it's about the survival of all life on our planet Earth,
Kisses from your Daddy Nabi aka King Spiros
When you look up at the sky at night in silence, you see a dark endless expanse. But Eye see an endless blissful, joyous, light-filled, loving multi- dimensional Playground for my Soul. It's not 'outer' space, and never was outer space, it's Inner Space. "The Kingdom of the Universe/God/Nature/Heavens is all WITHIN You. Just as Every religion promises, as every religion says the exact same thing in the scriptures. There are infinite suns and worlds of beauty, with beings on those worlds. Choosing one religion over another is judgment, as infinite love doesn't make choices. So if you root for the cross and despise the pyramid, you are in self-udgment, as you judge nobody else but your-Self. As ALL these symbols of every religion in the infinite multi-dimensional Universe, are all encoded deep WITHIN YOU. And there are BILLIONS of religions and ascended masters, and all lead to the same place, deep WITHIN, and every symbol of billions of religions are encoded deep within you. Oh how there are So many heavens and so many Angelic beings of light and beauty!
~ The above, written by a friend of Queen Cecilia,
expresses in part how we look at things
in here in The Queendom of Plomari
YOU WON'T MIND WE'VE TAKEN OVER THE WORLD.
WILL YOU BE CAREFUL NOW AS YOU ENTER OUR QUEENDOM, HUMANITY?
HUMANITY, WE OF PLOMARI SHOT OUR LOVE DART ON YOU,
YOU WEIRDOS, DON'T YOU GET IT?! WE SENT IN PLOMARI'S ANGEL OF DEATH
TO END THE TROUBLES ON PLANET EARTH AND GIVE
WAY TO A BRIGHT FUTURE FOR HUMANITY
AND ALL SENTIENT BEINGS.
HEAR ALL OF PLOMARI SING,
HEAR OUR CHOIRS OF ABSOLUTION ALL OVER THE WORLD!
THE HOUSE OF CARDS THAT THE HUMAN WORLD WAS HAS NOW FALLEN,
PLOMARI HAS TAKEN OVER.
AND IN FACT WHEN WE WOKE UP
THE ANGEL OF DEATH WE WOKE HIM UP FROM
A SEA OF SEX WITH HIS WIVES THE BUTTERFLIES OF PLOMARI,
AND HE'S NOT REALLY HAPPY ABOUT HAVING TO
HELP YOU OUT ALL THE TIME, SO WATCH OUT
FOR KING SPIROS, OR DADDY NABI AS IS ALSO HIS NAME.
YOU ARE A LITTLE BIT LATE TO THE WEDDING,
WE HAVE BEEN IN OUR PLOMARI PARADISE
SINCE THE DAWN OF TIME. BUT WELCOME HOME, DEARS,
WELCOME HOME TO PLOMARI PARADISE!
RIGHT NOW WE ARE HOLDING OUR ROYAL WEDDING,
IF YOU WANT TO MARRY US AND BE PART OF PLOMARI,
WEAVE US INTO YOUR LIFE AND YOUR ART
AND FLY FOREVER FREE WITH US
IN PLOMARI PARADISE!
AND YOU WHO LOVE THE QUEEN OF PLOMARI,
QUEEN SISSY COGAN,
DON'T EAT NO MORE CHICKEN,
WE SEE IT AS SHE IS THE CHICKEN JUST AS
THE BUTTERFLIES ARE THE BUTTERFLIES,
AND FOR ALL YOU CARE THE COW
IS KING SPIROS THE ANGEL OF DEATH
SO DON'T EAT HIM EITHER,
INSTEAD GO AS MUCH VEGETARIAN OR VEGAN AS YOU CAN!
HASHTAG #ENTILLWIFE
(One more wife / One to my wife)
ON INSTAGRAM
And I swear on God, that had I been born fifty or a hundred years
earlier or so, me and my Queendom of Plomari
could have prevented the World Wars.
Now, I am the psilocybin mushroom itself
in high person, but I have entered this human
body to set the world free.
What you are witnessing is an act of
my own free will, and as essential lifeform
I hereby demand and steal my political independence on Earth,
for me and for my people The Royal Cogan Family of Plomari.
You know what I am capable of in my psychedelic Hyperspace
Plomari, now watch me go in a body!
- King Spiros of Plomari
aka The Mushroom Seamstress
aka Daddy aka King Hu,
the Lone Supreme Commander of
The Strawberry Queendom of Plomari,
all hallucinogens ever in High person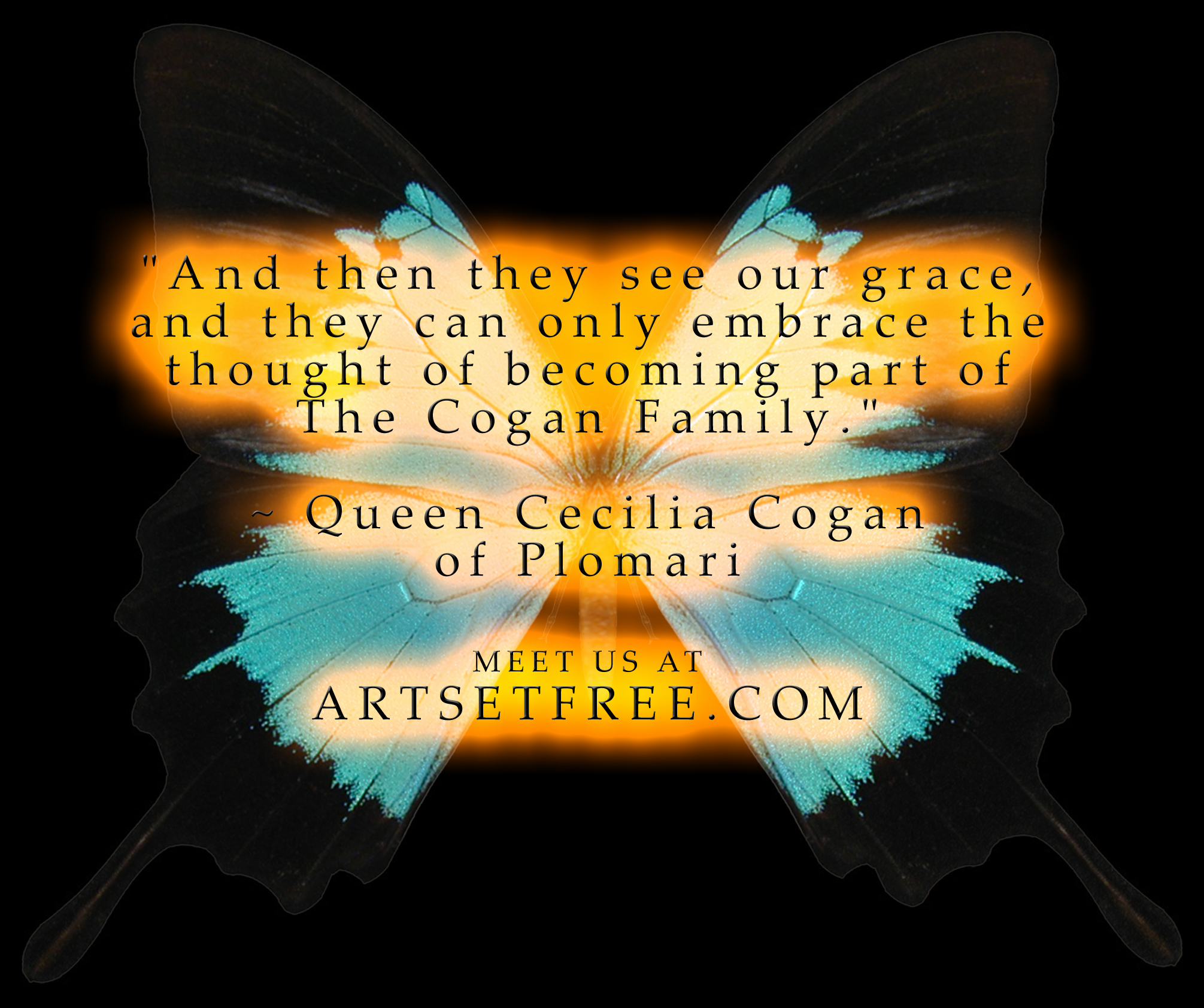 PEACE, LOVE AND UNDERSTANDING.
QUEEN BUTTERFLY,
WE CAN SAVE THE WORLD
JUST YOU AND ME TOGETHER.
WE HAVE A COLD WORLD TO WARM,
MY ETERNAL LOVE OF ALL TIME.
SO LET US OPEN THE GATES OF DEATH
TO THE LIKES OF THE OLD HUMAN WORLD,
AND LIVE FOREVER FREE IN OUR
QUEENDOM OF PLOMARI,
EARTH'S GREATEST SUPERSTATE.
AND BY THE WAY, MY LITTLE HONEYBUM,
LET'S MAKE IT CLEAR TO
ALL OF HUMANITY THAT
WE WILL LAUGH FOREVER!
HAHAHAHAHA!
~ Kisses from your Daddy Nabi
aka King Spiros of Plomari
__________________
"Yeah so quit crying about that I stole your Earth,
Humanity, the Earth is mine now.
Let me slow it down, son... you have been
dribbled by The Royal Cogan Family of Plomari.
And it makes you so mad that someone like me
can be stepping in front of you,
that you are not the only Superstates on the planet
from now on, that Plomari has taken over..."
~ King Spiros and his wives the Kpop Butterflies of Plomari
"YOU WORK FOR US NOW, HUMANITY.
WE OF PLOMARI SHOT OUR LOVE DART ON YOU,
YOU WEIRDOS, DON'T YOU GET IT!?
GIVE UP, HUMANITY!!! WE ALWAYS WIN!
ANYWAY WE CANNOT PLAY YOUR GAME,
HUMANITY, BECAUSE WE ARE THE ANSWER
TO YOUR PRAYERS.
WE ARE ONE; WE ARE PLOMARI,
AND WE WILL BE FREE FOREVER.
FOR WHO CAN CRUSH PLOMARI'S
IMMORTAL THRONE, OR LEVEL
OUR ETERNAL PARADISE?!"
~ Spaceman King Spiros aka Daddy Nabi
and his wives the Kpop Butterflies of Plomari,
the High King and Queens of the Queendom of Plomari,
Earth's greatest Superstate
__________________________________
O, bring me home to King Spiros land, bring me home to Plomari,
for the King's circle is big, and here we can live free in joy and peace and love,
and I say holy shit this is shroomy, or as Spiros and Bianca says: Fan va svampat!
~ Chief Eagle Blackbird, Native American
We always win. Enjoy your wine.
We are One, we are Plomari,
We are Earth's greatest Superstate.
For who can crush Plomari's
immortal throne,
or level our eternal world?
Weave us into your Life and your Art,
and fly forever free with us
in the Heavens of Plomari.
Beneath the surface of Reality
there's a world only
Plomarians can see.
Signal the Siren and ready the trap,
we have it all
and we have everything we need
to rule the world forever on.
Humanity, we are
The Royal Cogan Family,
and we shot our Love Dart on you,
you weirdos, don't you get it!?